Pole fitness in Chiang Mai, Thailand
For those who can't stand the gym or just want to try something new, pole fitness combines the best of dance and resistance training.
Classes
Learn pole dancing in a fun, friendly environment! Get fit while developing your abilities and confidence - at any level.
Lvl 1 - True Beginner

฿550

New to pole? Start here for the basics. The focus of this class is on the principles behind the moves, essential vocabulary, and safety. By the end of a class, you will have learned some moves and spins, and put them together in a fun routine! Open to all fitness levels. If you have dance or gymnastics experience, you'll probably move on after one class. Total newbie? Repeat this class until you feel ready to level up.

Lvl 2 - Beginner Pole

฿550

For students with a good grasp of the basics, or with previous training at another studio at Levels 1 or 2. The focus of this class is on expanding your range of moves, holds, poses, spins, and transitions. Classes may incorporate floor work, and will primarily use static pole.

Lvl 3 - Beginner/Intermediate Pole

฿550

For students with a good grasp of the basics, or with previous training at another studio. The focus of this class is on expanding your range of moves, holds, poses, spins, and transitions. Classes may incorporate floor work, and will primarily use static pole. Intermediate students will focus on refining techniques, and getting off the ground with climbs, inverts, and combos. Classes will be more physically challenging, and will use both static and spinning pole.

Set your own agenda during this unstructured practice time. Work on that tricky move, choreograph a routine, do some conditioning, it's up to you! Teaching isn't provided for this session, but a trainer is on site to spot you and make sure you're training safely. Open to intermediate and advanced students or those with previous experience at other studios.
Classes are one and a half hours long, unless otherwise noted, and begin with a warm-up.
Pricing
Classes and packages can be purchased directly from CNX Pole. Please enquire with a trainer before or after class.
Regular Classes: ฿550 per 1.5 hour session
True Beginner Classes: ฿300 per 1 hour session
Open Pole: ฿300 per 1.5 hour session
Packages:
5 Classes: ฿2500 (฿500 per class)
10 Classes: ฿4500 (฿450 per class)
Packages valid for a period of 60 days
Schedule
Please note note that the schedule below is effective as of January 6th. Check the most up to date schedule and sign up here. If you have any questions, please check our Facebook or get in touch via Messenger. Thank you!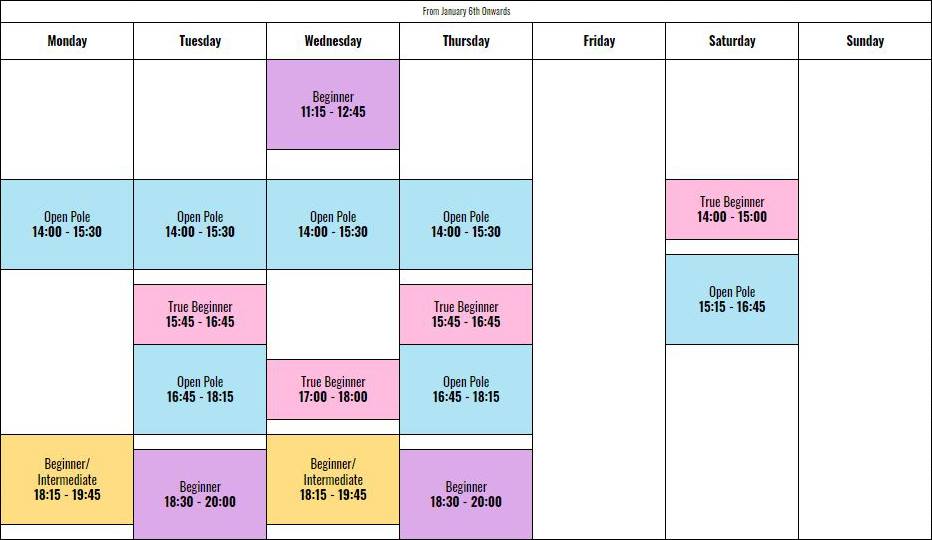 All classes are open on a drop-in basis but availability is limited, so please sign up to confirm attendance. Private sessions available by appointment only.
Events
Pole Play Day
Monthly
Always wanted to give pole a try but never had a chance - or just felt too intimidated? Don't fear!

Pole should be FUN, that's why we're hosting Pole Play Day, a no-pressure chance to try pole for the first time. If you have previous pole experience, come jam and maybe show some newbies what you've got! Bring your heels, wear a tutu, whatever makes this event fun for you!

Your fearless pole leaders, Lily and Vikky, will be on hand to give demos, coach and spot you, and answer any questions you might have about pole dancing.

Drop in for as short or long a time as you like for a cover fee of ฿300.
Upcoming Dates:
About Us
Welcome to CNX Pole, Chiang Mai's first dedicated pole dance and fitness school! When Vikky and I first met we were both shocked that a city as diverse and active as Chiang Mai didn't already have a pole studio. We realized we were both determined to bring this art we loved so much to our community so we banded together to do it and we haven't looked back!

We both separately got hooked on pole after years of dancing in other forms. The physical challenge and endless chase to nail that badass new move is both motivating and highly addictive. While pole is an excellent workout and an expressive dance form, what we also fell in love with was the inclusive, body-positive and accepting nature of the pole community. It has taught us that every body is a pole body and the joy of self-expression through movement.

For the past year we have been teaching beginner and intermediate pole dance classes and slowly growing our community. First teaching out of a borrowed space in a friend's hostel (#bootstrapping), for a brief time at Fitness Thailand, and now at an amazing new space at Vivid Dance Studios where we offer classes five days a week.

Our ambition for the next year is to expand our classes to new studios/gyms and to (fingers crossed) maybe even move into our own dedicated space in 2020.

We hope you will join us on our journey and become as hopelessly addicted to pole as we are!
Lily xoxo
Get to Know Our Teachers
Vikky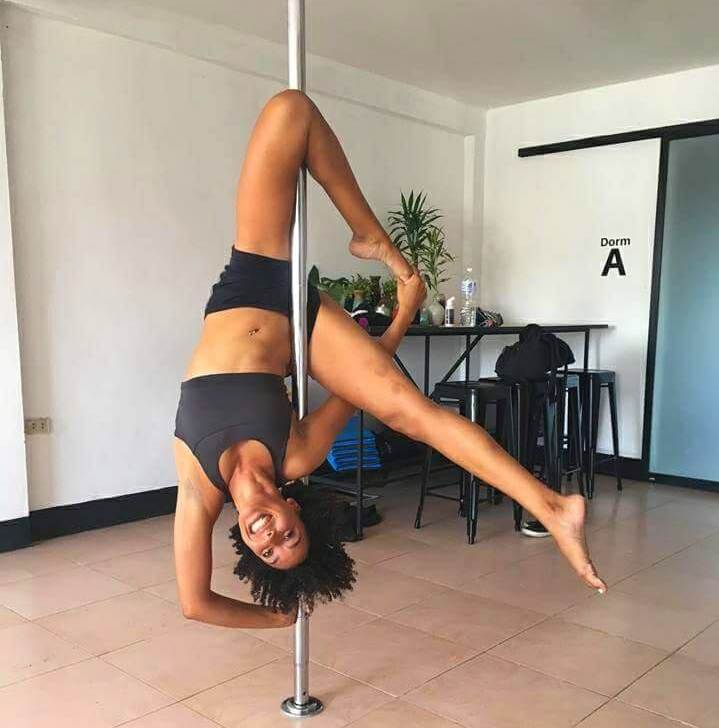 A trained dance and gymnastics teacher, Vikky has more than a decade of experience teaching dance and managing studios. She originally hails from the UK and has called Chiang Mai home for almost five years. She teaches beginner and beginner/intermediate classes and is our resident handstand queen.
Lily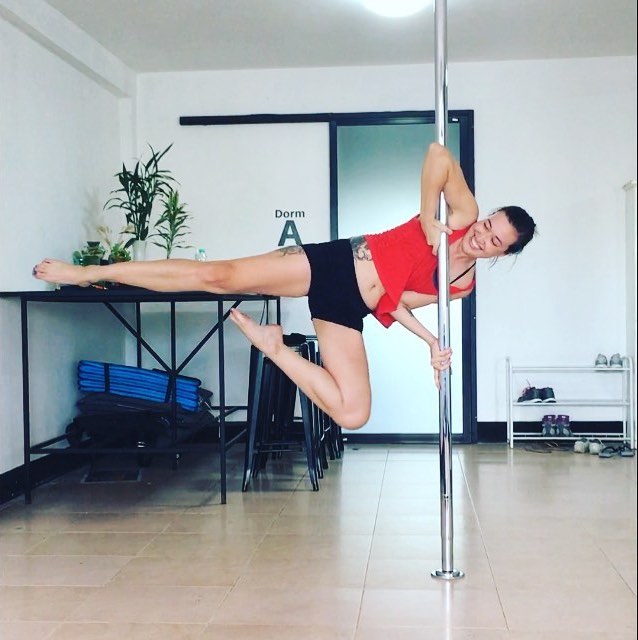 Liy has been pole dancing on and off since she fell in love with the sport four years ago. A Chiang Mai native, she's a serial entrepreneur who couldn't resist the chance to share her love of pole with the amazing people of this city. She teaches beginner and choreography classes and loves a sassy body roll.
Our Equipment
We are focused on safety and quality at CNX Pole and all our equipment is purchased from X-Pole, the professional standard worldwide. Our studio is equipped with 45mm chrome poles which switch between both static and spin.